Metal Stoppings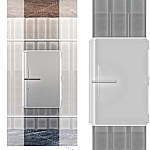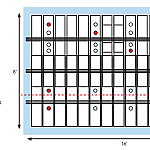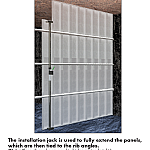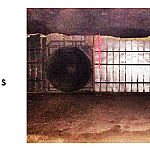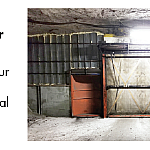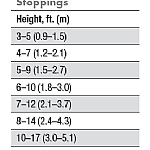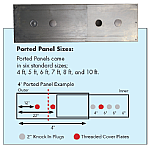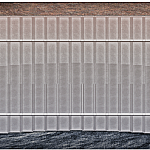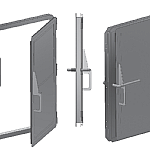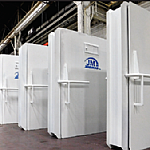 Metal Stoppings
JENNMAR's Metal Stoppings are an economical solution for underground mine ventilation control. This alternative to conventional block stoppings is comprised of a set of vertically telescoping steel panels that provide a safe, low-cost system to deliver positive control in all mining environments.
---
Stoppings Sizes
JENNMAR offers a wide range of sizes of metal stoppings based on height and pressure requirements. Door kits to accommodate all sizes of stoppings are available and can include top and bottom panels. Available for both metal and block stoppings. Stoppings can be ordered as a kit including all installation accessories or as individual components.
---
Safe & Efficient
JENNMAR Metal Stoppings is a cost-effective system of mine ventilation control that is safe, easy to handle and install, features a yieldable design and is reusable.
Safety
Each panel is designed to have a safety edge to eliminate hand injuries during installation. The Patent pending, Miners Safety Edge, combined with the ease of transport and installation, provide a safer work environment by eliminating accidents and lost man-hours.
Easy and Safe Material Handling
JENNMAR Metal Stoppings are packaged in lightweight bundles that provide a safer and more efficient means of transport than conventional block stoppings when transporting underground by rail or rubber tire. Conventional block stopping material typically requires four times the hauling capacity and comprises ten times the weight. When mines encounter areas that are inaccessible by machinery, the JENNMAR Metal Stoppings can provide a viable ventilation control solution due to their light weight and ease of transport.
Ease of Installation
Due to the size, extendibility and light weight of the metal panels, one experienced person can install four JENNMAR Metal Stoppings in the same amount of time it takes to install one conventional block stopping, thereby reducing cost and increasing the rate of mining.
Yieldable Design
JENNMAR Metal Stoppings are able to withstand changing mine floor and roof conditions due to their ability to yield and maintain positive ventilation control.
Reusability
Panels are constructed of galvanized steel that provides long life and unlike block stoppings which require a machine or sledge hammer for removal, JENNMAR Metal Stoppings can be easily removed due to their yieldable feature. They can also be disassembled in a matter of minutes by cutting the clips and then transporting them to a new location. Each stopping can be reused many times due to its quality galvanized construction.
Ported Panels
Ported Panels are to be used in conjunction with our Jennmar seals. The Ported Panels will include penetrations from the factory for fill lines and penetrometer tests. Plugs will be included with the panels. Panels can be ordered as a kit, including all installation accessories, or as individual panels.
---
Seal Ventilation Application
JM Metal Stoppings are currently being used to ventilate seal locations as a more permanent option to brattice cloth.
Ventilation Doors
Door kits to accommodate all sizes of stoppings are available and can include top and bottom panels. Available for both metal and block stoppings.

Features:
• Heavy-gauge door construction
• Reinforced with secondary steel framing
• Sure-tight handles and gasketing
• Safe, user-friendly construction (no sharp edges)
• Made in the USA

Benefits:
• Durable and long lasting
• Tighter sealing that improves ventilation
• Quality door handles that prevent malfunction
• Cost effective doors that help eliminate citations and safety issues