JENNCHEM Underground Roadway Repair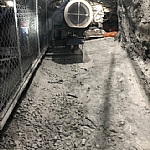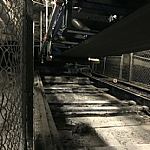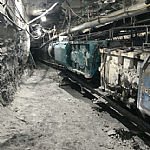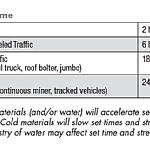 JENNCHEM Underground Roadway Repair
JENNCHEM Underground Roadway Repair is a specially formulated fast-setting concrete designed for the mining and tunneling industries. It is designed specifically for demanding applications where quick return-to-service is required, and where traditional concrete mixing equipment is unavailable or impractical. JURR is formulated to absorb mixing water and gain strength rapidly with little or no mixing. It is ideal for rehabilitating underground roadway and filling mud holes or puddles.

JENNCHEM Underground Roadway Repair is a safer, more permanent solution than temporary bridges or traditional fill methods. The specially graded aggregates are designed to provide traction for foot traffic and wheeled vehicles while limiting unnecessary tire wear. Use JURR to limit liability from slippery mud holes and to mop up nuisance water areas, returning your attention and time to maximizing production.
---
Instructions
Repaired area is only as durable as the underlying substrate. Remove mud or soft base if possible. Put down rock or ballast and compact to provide a solid base. Fill hole or depression with water until you have standing water up to where repair level is desired. Open packaging and dump material into standing water. Allow material to soak up water. Agitation with shovel or other suitable tool can be used to improve mixing. Finish to desired texture. This operation can be done in multiple levels if desired.

Packaging/Yield
• 60 lb bags (≈ 0.6 cu ft),
• 2500 lb (≈ 1.0 cu yd) super sacks
---
Caution
JENNCHEM Underground Roadway Repair contains cementitious materials and may cause irritation to lungs, eyes, and skin. Avoid contact. Use only in adequate ventilation. Do not breathe dust. Wet mixture may cause burns. Wear suitable gloves, eye protection, and protective clothing. In case of skin contact, wash thoroughly with soap and water. In case of eye contact, flush immediately and repeatedly with large quantities of water and get prompt medical attention. In case of difficultly breathing, remove person to fresh air. If difficulty breathing persists, seek medical attention.