Rail Ties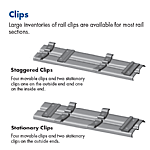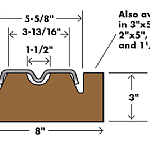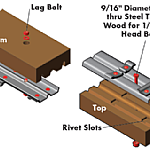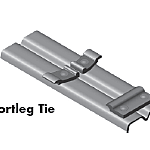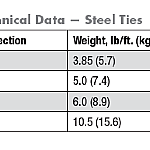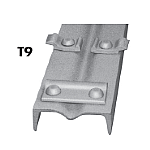 Rail Ties
JENNMAR offers a complete line of steel and iron clad ties to the mining and tunneling industries. We can engineer our ties to meet your specific haulage application. Our ties can be designed for any type of rail and gauge.

Advantages:

• Designed for easy installation
• Lend themselves to the most punishing main line haulage needs
• Do not require constant inspection and maintenance

---

Iron Clad Ties
JENNMAR's Iron Clad Ties have been redesigned to accommodate our new No. 6 shortleg steel tie. The flat section of the top of the tie mates perfectly with the flat section of the top of the wood providing crush resistance exceeding 20,000 lbs.

---
Steel Ties
JENNMAR steel ties feature special riveted rail clips, are lightweight and easy to handle. Our quality control standards ensure consistent track gauging, and superior strength steel. Our T4, T5 and T6 Shortleg Ties add superior crush resistance.

JENNMAR also offers an exceptionally strong T-9 Steel Rail Tie. This design, can be manufactured for any special application. The T-9 is designed for mining and industrial applications such as: coal, hard rock, factories, mills, quarries, tunnel, and various construction projects. This heavy duty design provides long-life use.

• For 30 lb rail and heavier
• Easily installed; manufactured to fit any track gauge; assures exact and constant track gauge
• Readily available from all JENNMAR locations

---
Tunneling Ties
Our Tunneling Ties are specifically designed for use in tunnel projects where the bottom surface is not flat. These tunneling ties are designed to project specifications for tunnel diameter, wheel load and tie spacing. They can be used without blocking and provide engineering support while maintaining proper track gauge. Axle loads of 45,000 lbs on 30" tie spacing have been successfully implemented.