PUR70 Polyurethane Resin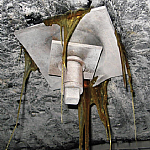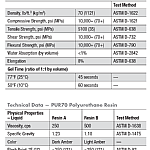 PUR70 Polyurethane Resin
PUR70 Polyurethane Resin is a two-component polyurethane resin system. When properly mixed at a ratio of one to one, PUR70 cures to a rigid polymer with unique physical properties, resistance to water and chemical attack, and long term durability. The fast reactivity of PUR70 is used to control high water flows and consolidate loose rock strata.

The product's high adhesive strength, outstanding mechanical properties and flexibility create an excellent bond with the strata. When injected into the strata for preventive or curative purposes, the low viscosity mixture remains liquid for several seconds and penetrates into the smallest fissures. The polyurethane then expands, sets and effectively consolidates and seals the broken rock.

PUR70 can be applied with various types of dual piston pumps.
---
Applications
Typical applications include:
• Ground consolidation in the event of fractured and unstable ground
• Sealing against water ingress
• Injection of rock bolts, see the Fully Grouted Cable Bolt (FGCB)
• Ground stabilization
• Storm water systems, tunnels, manholes & underground vaults
• Concrete and earthen dams
---
Advantages
• Low viscosity product with good penetration into small fissures
• Non-flammable, non-toxic and does not contain any Volatile Organic Compounds (VOCs)
• Excellent adhesion, resistance and durability
• Ground cohesion quickly re-established under wet or dry conditions
• High flexibility, coherence maintained even in the event of strata movement
• Swells in the presence of water, suitable for stemming water ingress
• Full mechanical strength achieved very quickly, resulting in minimum disruption to workplace
• Storage and Shelf Life:
–– Product is moisture sensitive. Store product in original sealed containers at temperature range of 60–90° F (15–32°C).
Opened containers must be handled properly to prevent moisture contamination. Shelf life is 12 months when properly stored.