JM CABLE Post-Tensioned Cable Bolt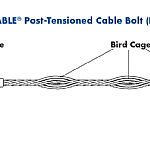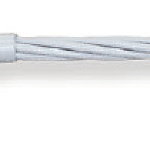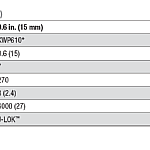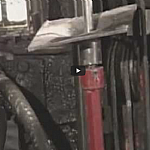 JM CABLE Post-Tensioned Cable Bolt
Post-Tensioned Cable Bolt (PT) is manufactured using 0.6 or 0.7" cable and incorporates resin mixing bulbs and a stiffener tube. The housing and wedge is inserted onto the cable but is not set. A pigtail extends below the housing to allow mixing and attachment of the tensioning unit which sets the housing and wedge.
---
Function
Post-Tensioned Cable Bolt (PT) is normally utilized when high tensionable loads are required in highly unstable and fractured strata. The PT bolt is installed by applying direct tension to the cable pigtail and the load is normally the highest applicable among the cable bolt systems. It stiffens the bolted horizon to allow little movement of the system and has normally been utilized as a secondary bolting system.
---
Installation is more time consuming and not recommended for full time installation during normal production. A 6–12" protrusion from the roof, including the barrel, wedge and cable pig tail occurs for all installations. Height restraints should be considered when implementing this system.
---
Conditions
Old works, outby, after areas have set, highly fractured and broken strata, areas that require stiff systems with little room for movement.
---
Locations
Outby areas, belt entries, belt rehabilitations, intersection support, longwall recovery and set-up entries, and longwall headgate entries.