JENNMAR Overcast Systems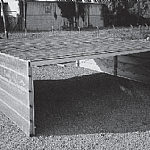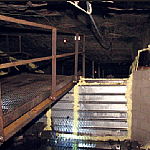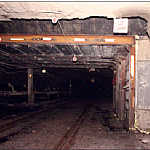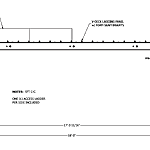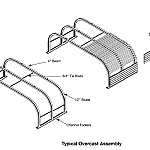 JENNMAR Overcast Systems
JENNMAR Overcast Systems are designed to be modular reusable structures that are used in underground high pressure situations to insure intake air is not contaminated with return air. Overcasts can be designed to be driven over with equipment such as man trips, continuous miners, bolters and/or haulage equipment. Utilization of wide flange beams and roll-formed V-Deck lagging allow for an air tight seal. Reusable lightweight materials are well suited for underground construction.
---
Advantages
• Lightweight and durable
• Easily transported and assembled
• Strong enough to resist rib rolls and minor roof material
---
JENNMAR Overcast Systems consist of the following components:
• Cross member, W6 × 15
• Leg member, W4 × 13
• Tie rods & spacer tubes
• Bolt-together assembly
• V-Deck lagging with foam
• Channel runner
• Man doors
• Overcasts can be designed and built with stairways, ladders and ramps complete with handrails to allow for travel over the top of the overcast. Access ways are constructed with 3 points of contact in mind.
---
Mastercast
• Rapid assembly, as few as six major pieces
• All sizes available in 12" increments
• Reusable and galvanized panels
• Chanel ends for wingwalls
• Light and heavy duty versions
• Ships complete with all tools
---
Traditional Overcasts
• Strong — made with wide flange beam
• All steel — no aluminum
• Quick erection — 2–4 hours
• Most sizes
• Reuseable