J-LOK Resin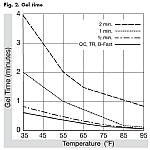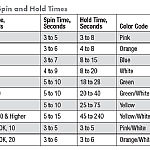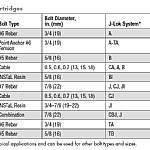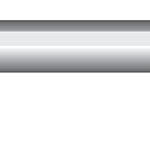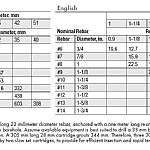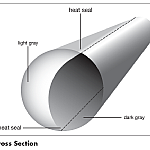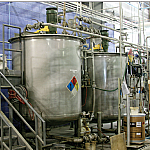 J-LOK Resin
The J-LOK® resin in the cartridge is used to anchor bolts to the surrounding strata. This unification of the resin, bolt and strata layers provides the necessary strength and rigidity
to prevent sag by acting as a reinforcement which anchors the individual stratified layers of rock into a single high strength beam.

The two-compartment cartridge shown in illustration A above consists of a heat-sealed tube of polyester film clipped at both ends. One compartment contains a dark gray resin; the other, a light gray catalyst. A cross section of the cartridge is shown in illustration B.

A film barrier of heat sealed polyester film prevents migration between the resin and the catalyst to provide optimum shelf life. The excellent chemical resistance of the film minimizes migration from the inside and the absorption of contaminants from the outside.

The lightweight, dimensionally stable casing of film is strong enough to withstand rough handling, but shreds quickly and thoroughly during the installation procedure.

J-LOK is thixotropic and fast setting. This reduces viscosity during insertion of the bolt and permits relatively low installation force and torque. The results are fast installation, rapid achievement of full strength, and a minimum tendency for ungelled resin to drip from the holes during installation.
---
Advantages
The proprietary J-LOK® package has a distinct advantage over other resin systems due to:
• High catalyst/resin ratio
• Uniform installation time
• Mixing efficiency
---
Gel Time
Generally, the sum of the Spin Time and Hold Time is the Gel Time. The time from the start of mixing until the resin starts to harden is the Gel Time. Gel Time is influenced by temperature of resin, strata and bolt. Additionally, the amount of heat generated in mixing during the spin time also affects Gel Time. Field trials are recommended.
---
Spin Time
Cartridge contents should be completely mixed to achieve maximum anchorage. The generally accepted mix standard is a minimum of 30 revolutions of the bolt. Spin Time is the time required, at typical bolter rotation of 400–600 rpm, to achieve the complete mix.
---
Hold Time
After the cartridge contents are mixed, the resin must harden to achieve strength. The time required after mixing is completed and the bolt has achieved a firm anchorage is referred to as Hold Time.